Okay. Now I'm suddenly getting graphic rendering issues in notation view sometimes. Maybe related. Same project and version as above. Comes and goes with window focus I think.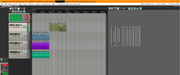 EDIT:
Just as I posted this, I was looking at my own screenshot and remembered that all the midi items had a 2x playback rate. I glued them all to restore 1x rate and these issues seemed to go away.
So the takeaway here I think: there are interactions with item rate and notation view that might need investigation.