Hi there folks!
I have been using REAPER for quite some time now and recently looked further into the take-system and it's different modes. In my opinion,
the third mode "Create new media items in seperate lanes" has some quirks, that don't seem right to me. Here is a picture: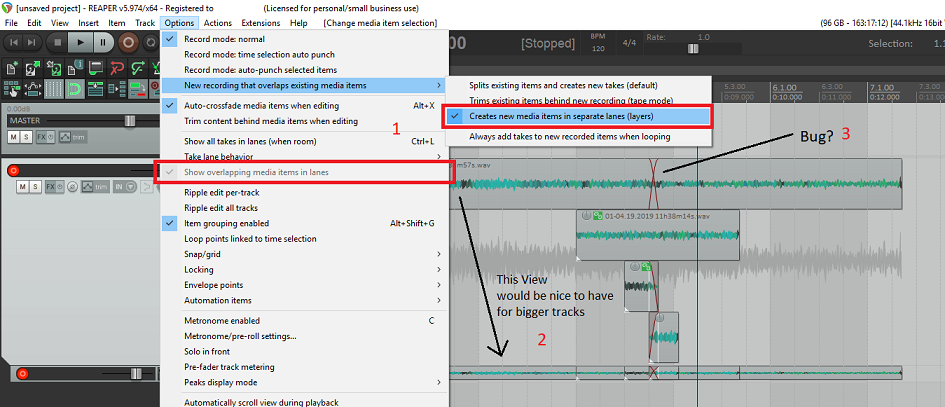 Let me explain:
When "Create new media items in seperate lanes" is selected, the Option "Show overlapping media items in lanes" will be greyed out and always active.
However, I think it would be useful to still have that option (On small tracks it deactivates anyway).
Having this Option would mean I could increase the Track height and work on the crossfades way easier. If i want to make adjustments to my comp,
i can just go back to multiple-lane-display.
if there is a crossfade somewhere, REAPER will always draw a crossfade on the bottommost item, that does not have handles or anything, just two red lines.
I think this is a bug.
Not in the Picture:
If the bottommost item is selected, there is no way to select one of the items on top, except clicking the item edge or a crossfade.
Just clicking the items on top will register as clicking the bottom item. Again, this is only if the bottom item is actually selected.
Further thoughts:
If there was an ability to change the order (top to bottom) of the items in the lanes, "Create new media items in seperate lanes"
would be much preferable to "split existing items and create new takes" in many situations.
Is this understandable / do you also see how this could be useful?